Chapter History
Baraboo Chapter No.: 21, Order of the Eastern Star, has seen continuous service since originally being Chartered. It is one of the oldest Chapters in the State of Wisconsin. The Installation of officers takes place each year in June; while new members are admitted throughout the year.
For many years, the Baraboo O.E.S. Chapter has enjoyed a large and growing membership roster over the many years since we were Chartered. The reason for this continual growth and success is because of the dedicated Members and Officers of the Baraboo O.E.S. Chapter. With the organization and growth of the Masonic Lodge, York Rite, and Shrine Club in Baraboo, the Chapter of O.E.S. has experienced an explosive growth over the past six years. Not only has the Baraboo Chapter O.E.S. attracted new members, we have had many members from area Chapters change their membership to the Chapter in Baraboo.
To this day, Chapter No.: 21 has been a Chapter of continual growth, that strives to maintain the kinship and love that has made it the success that it is.
What is Eastern Star
The order of the Eastern Star is a Masonically-related fraternity of women and men dedicated to charity, truth and loving kindness. Although not a part of the Masonic fraternity, membership is based on a Masonic affiliation or relationship, a belief in God, and a desire to acquire additional knowledge and for self improvement.

The degrees of the Order of the Eastern Star teach lessons of fidelity, constancy, loyalty, faith, and love. These degrees are presented in a beautiful ritualistic ceremony designed to not only teach the lessons, but also to provide insight for future study and understanding.

Local Eastern Star Chapters select their own charities and places or people to be of service to in their own community. Each year special charities are selected for statewide projects and special emphasis are placed on these.

To soothe the unhappy, to sympathize with their misfortunes, to compassionate their miseries, and to restore peace to their troubled minds, is the great aim we have in view.

The Eastern Star is also a social organization with frequent formal events and ceremonies. Being a member is a wonderful and fulfilling way of life. Please ask an Eastern Star to tell you more about it !
Membership Information
To become a member you must be either a Master Mason in good standing or a woman who is 18 years of age and properly related to a Master Mason in good standing.

The latter category includes wives; widows; sisters; daughter; mother; grand-daughter; step-mother; step-daughter; step-sister; half-sister; niece; daughter-in-law; and grandmother.
---
"The Eastern Star is not an ancient organization, but it, like most secrets orders, draws its lessons, symbols and tradition from the Ancients. A symbol, behind which is veiled truth for which you must search, will teach you the most lasting lesson. I will give you a few of these, the rest you must think out for yourself."


"Our Chapter Room is dedicated to God, His lessons, His laws and His power. In our Order we permit no one to enter our Chapter Room during our session wearing a hat, gloves or wrap. There is a symbol of significance for this. In symbolism we think of God as above us, therefore a hat or head covering would be a symbol of something between us and our God. We should meet our Sisters and Brothers with the open hand of friendship; wearing gloves, therefore would be a symbol of something between us and our friends. In the cordial warmth of our Chapter Room, the wrap would be superfluous. This is a symbol of the fact that with the members of our Order, our character should be free from all superfluous traits. We should meet on a common level, if we would know the joy of the true Sisterhood and Brotherhood."

---
Wisconsin Eastern Star Websites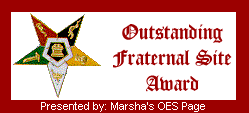 Return To The Previous Page